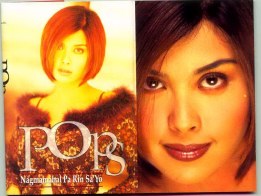 POPS SHOWS MORE DEPTH AND POWER IN NEW ALBUM
by David Gonzalez, Philippine Daily Inquirer, May 9, 1999
It isn't always so, but there are times when struggles in singer's personal life
can have an affect on their art. Not to put undue attention on Pops Fernandez's unsettled marital situation with singer Martin Nievera, but perhaps this accounts for some of the passion and depth Fernandez displays in her stunning new album, "Nagmamahal Pa Rin Sa 'Yo."
Before this, Fernandez's voice had always sounded thin to me, and I wondered how she had ever earned the title "Concert Queen." However, the new album is a different story, and her singing on "Nagmamahal Pa Rin sa 'Yo" reveals a wellspring of strength and a commendable willingness to dare and take chances.
Aside from hitting all the right notes, being a good singer often requires the ability to impart emotion and passion, which Fernandez does in abundance here. It also helps that the album's 12 songs are all first-rate, containing exquisite, finely crafted melodies and hooks, and all written by an assortment of fine local songwriters.
Much of the music consists of the passionate easy-listening love song Filipinos are so fond of, but this is easy listening with a difference, and Fernandez's performance accounts for much of that difference. There are also adventurous touches applied judiciously in the album, such as the syncopated, bottom-heavy drum beat heard in "Kakabakaba" and the sear- ing electric guitar of "Dreams." One of the album's best songs is "All the Love You Need," surely a potential single, containing a fine melody and catchy hook in the chorus. In this song and throughout the album, Fernandez mostly keeps her voice in the middle register where she is quite comfortable, allowing her to give it her all.
Anther outstanding song among many is "Dreams," a most adventurous outing
and also graced by a gospel-like backing chorus. Fernandez gives a soulful
touch to lyrics such as: "
I used to have dreams/Of love in your arms/The most tender moments/A kiss a hug a night/I never thought never thought/It would end."
Fernandez imparts much depth to the lyrics and other songs on the album,
willing to put herself on the line, singing her heart out and not afraid of what
anybody thinks (I never thought the words "(Pops) Fernandez" and "depth" would be in the same sentence). Suffice to say, her gamble has paid off, and there isn't a bad song in the bunch.
In addition, at a time when so many Philippine artists are recording remakes of American and other international songs, it is noteworthy that all the songs on "Nagmamahal Pa Rin Sa 'Yo" are new and original and written by Filipino composers ("Shine," composed by Louie Ocampo and Martin Nievera, was
first performed on TV last year, but not recorded until this album).
To Fernandez's credit, she doesn't forever waste her time singing remakes such as Stephen Bishop's "It Might Be You," but has the courage to test boundaries with new songs. The quality of songwriting on "Nagmamahal Pa Rin Sa 'Yo" is maintained at a high level throughout, contributing greatly to
the album's success.
It is hoped Fernandez will sing these songs on television, and
perhaps even mention the songwriter. All too often, singers here spend too much time performing American songs on television, which contributes little or nothing to the local music scene.
The album was obviously put together with much care and attention to detail, and the producer, Vehnee Saturno, also deserves credit. Simply, Fernandez's "Nagmamahal Pa Rin Sa 'Yo" is one of the year's best
albums.